A couple weeks ago Beth Lipton, aka
CookiePie
asked for volunteers to do an online book tour of her new dessert cookbook called "
You made That dessert?
I jumped at the chance along with some other bloggers!
To Read More, Click On The Recipe Title.
We were sent the book to choose a recipe to make and post about. The book has a very attractive and appealing cover. The pages are filled with wonderful pictures of the recipes which I thoroughly enjoyed lusting over! The recipes are very well written so that anyone can make them. Beth this is a winner! And why wouldn't it be, Beth Lipton is the food editor at
All You
magazine, she's also the founding food editor for
Quick and Simple
magazine and a trained pastry chef to boot! You can find Beth's book
here
. Ok... What to choose?? It wasn't easy believe me, there are so many recipes I want to try, I think I changed my mind ten times before I finally chose two.
I'm definitely going to be using this book alot, I can't wait to make the Buttermilk Pie, the Flourless Chocolate Cake looks out of this world good, the Double Apple Streusel Cake...OH MY Word!!! The Strawberry Ice Cream Cupcakes, I could go on and on! I chose to make the Cherry Clafouti and the Coffee-Chocolate Chip Blondies. First the Cherry Clafouti.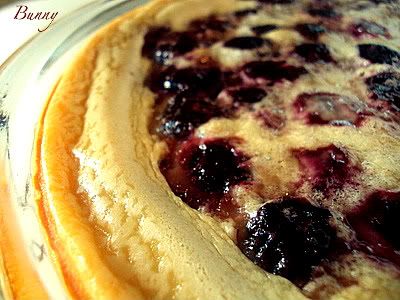 The first time I ever made a clafouti it was a disaster, it was a different recipe and more complicated than Beth's. I saw Beth's Cherry Clafouti picture and just stopped. "I wanna make that" ( spoken in the most whiny voice I could mustard up) I was scared though cause I remember what happened when I made the first one. But that picture, oh yes that picture, it kept calling my name. Beth said in the book it was easy, it would puff up like a pancake, it would be custardy and delicious.....that's all I needed, my butt was at the store buying frozen cherries and back home again in lightning speed! It came together in a matter of minutes, I turned the oven light on to watch it puff up ( yeah I'm weird like that), it puffed, it baked till it didn't wobble in the middle then it came out of the oven and cooled. I'm so proud of myself for letting it cool, but I'm still a little scared and don't want to do anything to mess it up. I cut it and tasted it....it was everything she said it would be!!! Oh so custardy, I loved it!! I made Cherry Clafouti and it was PERFECT!!!! Thank You Beth!!!
Cherry Clafouti
You Made That Dessert?
by Beth Lipton
Ingredients:
1 Tablespoon unsalted butter ( for preparing pie plate)
1 1/2 cups frozen dark sweet cherries, not thawed
4 large eggs
1/2 cup ( 2 ounces) confectioner's sugar, plus 1 or 2 tablespoons for serving
1/2 cup ( 2.1 ounces) all purpose flour
Pinch of salt
1 1/2 cups half and half
1/2 teaspoon vanilla extract or pure almond extract
Tools:
Large bowl
Whisk
Dry measuring cups
Liquid measuring cups
9 inch pie plate
Fine-mesh sieve
Wire cooling rack
1. Preheat the oven to 325 F. Using your fingers or a piece of plastic wrap, lightly coat a 9 inch pie plate with a thin film of butter. Spread the cherries evenly in the pie dish.
2. Separate 3 of the eggs, placing the egg yolks in a large bowl ( put the whites in a small bowl, cover and refrigerate for another use- scramble them for breakfast tomorrow). Break the fourth egg and put the whole thing( not the shells, of course) in the bowl with the yolks. Add 1/2 cup confectioner's sugar, flour, and salt and whisk to combine. Pour in the half-and- half and the vanilla, and whisk until well mixed ( there should be no lumps).
3. Carefully pour the egg mixture over the cherries in the pie plate. The cherries will float and move around a bit-this is fine, but redistribute them if they gsther too much on one side.
4. Carefully set the pie plate on the middle rack of the oven and bake for 45 to 50 minutes, until the clafouti is lightly puffed and set and no longer looks wet. (Check it after 45 minutes. If the clafouti is still liquid in the center when you gently wobble the pie plate, give it another 5 minutes. Remove the clafouti to a wire rack to cool for at least 10 to 15 minutes ( or let it sit longer and serve it at room temperature, if you like).
5. Using a fine-mesh sieve, sift 1 or 2 Tablespoons confectioner's sugar over the clafouti. Slice and serve.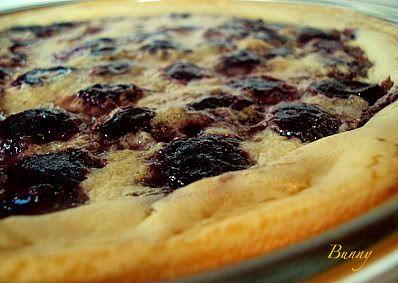 Coffee-Chocolate Blondies
The second recipe was the Coffee-Chocolate Chip Blondies. Unfortunately my family doesn't care for nuts of any kind. They just don't. But I made these anyway and didn't put the nuts in them, I just put more chocolate chips in, this recipe was a special favorite of our 12 yr old blondie and brownie gobbler, she loved them!! Want the recipe....get the
BOOK
!!!!! You'll love it!!!
Check out the other Bloggers who made recipes from Beth's Book
"You Made That Dessert
?"
RecipeGirl -
Cookies and Cream Cheesecake Bars
Two Peas and Their Pod-
Sour Cream Coffee Cake
Grumpy's Honeybunch -
Cappuccino Biscotti
Sticky, Gooey, Creamy, Chewy -
Lime Glazed Citrus Tea Cakes
Cookie Baker Lynn -
Banana Snack Cake
Eat me, Delicious
Peanut Butter and Jam Bars and Coconut Rice Pudding
Culinary Concoctions By Peabody -
Chocolate - Chocolate Chip Cupcakes
Baking Bites
- Book Review