It's been awhile since I baked with yeast, I guess my mood goes in spurts. First it was cookies, then cakes and now its anything with yeast in it.
To Read More, Click On The Recipe Title.
I went looking for a cinnamon roll recipe and came across this on the
King Arthur Flour baking site
. it was a recipe sent in by Carl Nelson, who along with his father ran the largest Swedish bakery in the west. Here's what Carl wrote...
"My dad and mother were born in Sweden, where Dad had a seven-year apprenticeship in baking before he came to this country. Dad and I operated, for a number of years, the largest Swedish bakery in the West. It was located in Los Angeles, and we enjoyed having some interesting customers: Greta Garbo, Ingrid Bergman (she didn't come in person -- her uncle shopped for her), and each week we delivered an order to Mary Pickford at Pickfair. There were others, of course."
How cool is that!! I felt like I was baking into a little bit of history with this recipe.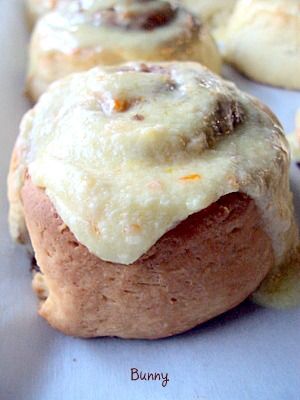 I've made cinnamon rolls recipes before like this
recipe
made from potato bread and this Apple Cinnamon Roll
recipe
, neither of those doughs compare with what I came across making Carl's recipe.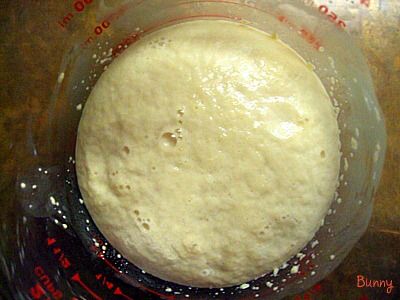 We start making this recipe by combining the yeast ( check your yeast for an expiration date before using) , lukewarm water and sugar together. For anyone that's never worked with yeast before the above picture is what yeast looks like when it's ready to be combined with the other ingredients. It's foamed up and bubbly, you can also smell the yeast at this point. In this recipe, the yeast and all the other ingredients are put into a large bowl or the bowl of an electric mixer like my Kitchen Aid and mixed together until fairly smooth. You can knead the dough by hand or use the bread hook for your Kitchen aid. If kneading by hand, you'll notice the recipe doesn't call for the surface to be lightly floured to knead.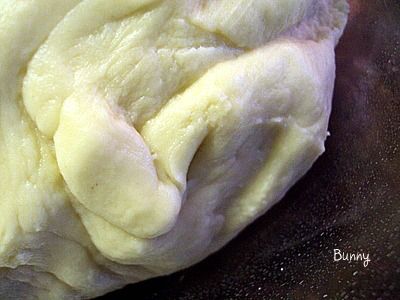 This is what the dough looks like after kneading. It is the softest , most supple dough I've ever worked with. At this point put the dough into a greased bowl placed in a draft free spot in your kitchen and cover it to rise.
The dough has risen and is ready to be rolled in to an 18x24 inch rectangle.
The recipe calls for an OILED work surface to roll the dough out, no floured work surface needed. This dough rolls out like a dream. Brush melted butter on the dough leaving one inch on one long side without butter, combine the filling ingredients and sprinkle over dough but not on the unbuttered one inch space. Tip about rolling the dough....don't roll to tight or the center will pop up when baked. Starting with long side roll toward the 1 inch strip down the other long side stopping at the bare dough. Dab water on the bare strip and bring it up over the roll. Roll dough so seam side is down.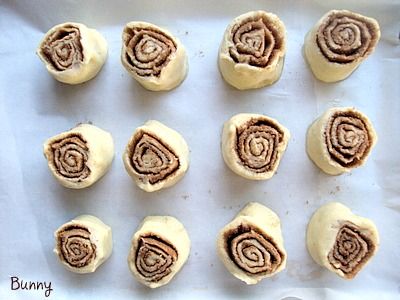 Get your ruler and mark off at 1 1/2 inches along the roll, cut with a serrated knife. Put the dough on a parchement papered cookie sheet one inch apart , cover and let rise.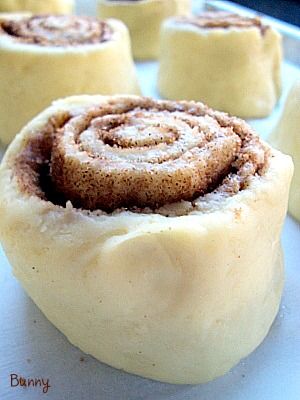 After your little bundles of joy have risen , you can brush the sides with melted butter or oil , Carl says they are easier to pull apart if you do. Pop them into a 350 degree oven for about 30 minutes. I chose to make the frosting the recipe provided because I love orange frosting on cinnamon rolls! I did have to add a little more confectioner sugar to the one cup in the recipe to get it to what I wanted. Frost these with any recipe you prefer. These cinnamon rolls are delicate, not at all bready. They are in a class all by themselves. They didn't last long at my house and I'm sure they'll have the same effect at yours. Carl thank you so much for sharing this recipe and your family's bakery history. It was my pleasure to make these.
God Bless you and yours!
Print recipe here.
Carls recipe makes 40 cinnamon rolls. King Arthur was kind enough to half the recipe to 20, that recipe is printed after Carls. The directions are the same for both recipes.
Carl's Cinnamon Rolls
King Arthur Flour Recipe Site
Dough
1/2 cup lukewarm water
1/2 teaspoon granulated sugar
2 packets active dry yeast
2 cups lukewarm milk
8 1/2 cups King Arthur Unbleached All-Purpose Flour
1 1/4 cups granulated sugar
1 egg, well beaten
1/2 teaspoon salt
1 cup (2 sticks) butter, melted
1 tablespoon vital wheat gluten (optional)
1 teaspoon dry malt powder (optional)
1/4 teaspoon ascorbic acid (optional)

Filling
1 1/2 cups light brown sugar
1/2 teaspoon salt
1/3 cup cinnamon
1/2 cup (1 stick) butter, melted

Frosting
1/2 cup (1 stick) butter, room temperature
2 cups confectioners' sugar
1/2 teaspoon ground cinnamon
3/4 teaspoon salt
grated zest and juice of 1/2 orange
1 to 1 1/2 tablespoons hazelnut liqueur, such as Frangelico, or almond liqueur, such as Amaretto
Manual Method: Dissolve the yeast and 1/2 teaspoon sugar in the lukewarm water. Combine all of the ingredients in a large bowl, or in the bowl of an electric mixer, and mix until fairly smooth. Knead the dough, by hand for 10 minutes, or with your mixer equipped with the dough hook for 5 minutes. The dough should be smooth and supple. Turn the dough into a lightly greased bowl, cover the bowl with plastic wrap, and allow the dough to rise until puffy, 1 to 2 hours.

Bread Machine Method: Place all of the dough ingredients into the pan of your bread machine, program the machine for Dough or Manual, and press Start. Check the dough during the final 10 minutes of the kneading cycle, adding additional flour or water as needed to produce a smooth, supple dough. Allow the machine to complete its cycle.

Transfer the dough to a lightly oiled work surface; divide it in half. Working with one piece at a time, pat and then roll the dough into an 18 x 24-inch rectangle.

Filling: Brush the dough with the butter, leaving a 1-inch bare edge along one long side. Combine the remaining filling ingredients -- sugar, salt and cinnamon -- and sprinkle them evenly over the dough.

Assembly: Starting with a long edge, roll the dough into a long log (not too tightly, or the centers of the rolls will pop up during baking). Make sure to finish up at the edge that isn't brushed with milk or butter. Brush that edge with water and pull it up over the log, pinching to seal. Roll the log so it's seam-side-down on your work surface.

Use a ruler to mark off 1 1/2-inch intervals, then use a serrated knife to gently cut 20 rolls; you may also loop dental floss around the log at each interval and pull, which gives you a nice, clean cut. Transfer the rolls to lightly greased or parchment-lined baking sheets, leaving about 1-inch between each roll. These will fit on a full-sheet pan or two half-sheet pans.

Brush the sides of each roll with melted butter or vegetable oil, if desired; this makes the rolls easier to pull apart after they're baked. Cover the rolls with lightly greased plastic wrap, and set them aside to rise until puffy but perhaps not doubled in bulk, about 1 1/2 hours.

Bake the rolls in a preheated 350°F oven for 30 to 35 minutes, reversing the pans midway through. They should be golden brown. Remove them from the oven, and allow them to cool slightly, as you prepare the frosting.

Frosting: Using an electric mixer, cream together the butter, sugar, cinnamon, salt, orange juice and rind (or orange oil), and liqueur. Beat until light and fluffy, 1 to 2 minutes. The mixture should be of spreading consistency, like a soft butter cream frosting.

Using a metal spatula, frost the rolls while they're warm. Remove them from the pan, and allow them to cool on a wire rack. Eat them soon, or freeze them, well wrapped, for later use. (If you're going to freeze the rolls, it's better not to frost them before freezing.)

To Reheat Rolls: Remove the rolls from the freezer, and allow them to thaw, in their wrapping, at room temperature. This will take 1 to 1 1/2 hours, more or less. Remove the wrapping, and bake the rolls in a preheated 350°F oven for about 7 minutes, or until they're very hot. Remove them from the oven, and frost them. To reheat in the microwave, remove the rolls from their wrapping and microwave for no more than 30 seconds. Better still, heat them in a microwave set on defrost until they're warm. Serve rolls immediately. Yield: 40 rolls.

Note: If orange juice and zest are omitted, add a little more of the liqueur.






Carl's Cinnamon Rolls, Reduced Yield Version

Even cutting Carl's recipe in half, the above recipe will feed a crowd. The following is our adaptation -- which includes a few ingredient amount changes, makes a more manageable amount, and can be prepared with the help of a bread machine. We print the two sets of ingredients, and one set of directions, which remain the same no matter which version you use. We think you'll find these rich swirls of cinnamon and sugar a delight, and we thank Carl for his generosity in sharing.

Our Version
(To make 20 rolls)
Dough 1/4 cup (2 ounces) water 2 teaspoons instant yeast 1 cup (8 ounces) milk 4 3/4 cups (20 ounces) King Arthur Unbleached All-Purpose Flour 1/2 cup + 2 tablespoons (4 1/4 ounces) granulated sugar 1 egg, well beaten 1 teaspoon salt 1/2 cup (1 stick, 4 ounces) butter, melted Filling 2 tablespoons (1 ounce) milk 3/4 cup (5 5/8 ounces) light brown sugar 1/4 teaspoon salt 2 1/2 tablespoons (5/8 ounce) ground cinnamon Frosting 1/4 cup (1/2 stick, 2 ounces) unsalted butter, at room temperature 1 cup (3 1/2 ounces) confectioners' sugar 1/4 teaspoon ground cinnamon 3/8 teaspoon salt 2 tablespoons orange juice 1/8 teaspoon orange oil 1 1/2 to 2 1/2 teaspoons hazelnut liqueur, such as Frangelico, or almond liqueur, such as Amaretto