Have you ever had an Oatmeal Cake before?? If you haven't you don't know what your missing!
To Read More, Click On The Recipe Title.
This little gem is very moist and full of flavor. The topping is coconut, butter, brown sugar and cream. I made this for the restaurant today and it didn't take very long for it to disappear. This is so easy to make, after the cake is baked you put the topping on and broil it for a couple of minutes till it's nice and golden brown. When you cut this the first thing you smell is the cinnamon, then you see the gooey topping mixing in with that moist cake and it's love at first bite! This recipe came from
Allrecipes
, there must have been 40 reviews for this cake all praising the moistness of the cake and the incredible topping. I had to make it. Now this is how I want to eat my oatmeal!!!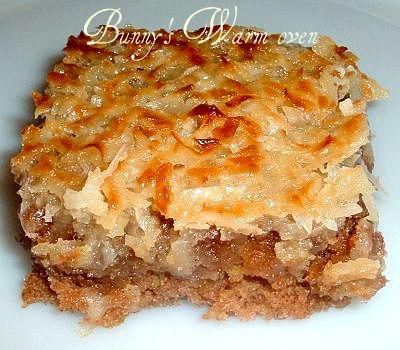 Oatmeal Cake with Broiled Coconut and Brown Sugar Topping
Allrecipes
INGREDIENTS
1 1/2 cups boiling water
1 cup rolled oats
1/2 cup butter
1 cup packed brown sugar
1 cup white sugar
2 eggs
1 1/2 cups all-purpose flour
1 teaspoon baking soda
1 teaspoon ground cinnamon
1 teaspoon ground nutmeg
1/2 teaspoon salt
1/4 cup packed brown sugar
1/2 cup white sugar
1 cup flaked coconut
6 tablespoons butter, melted
1/4 teaspoon vanilla extract
1/4 cup cream
DIRECTIONS
Preheat oven to 350 degrees F (175 degrees C). Grease a 9 x 13 pan.
In a small bowl, pour boiling water over oats. Mix well, and cool.
In a large bowl, combine butter or margarine, 1 cup brown sugar, 1 cup white sugar, eggs, flour, baking soda, spices, and salt. Add cooled oatmeal mixture, and stir to combine. Pour batter into pan.
Bake for 35 minutes.
While cake is baking, combine 1/2 cup white sugar, 1/4 cup brown sugar, coconut, melted butter or margarine, vanilla, and cream in a mixing bowl. Remove cake from oven, and turn on broiler. Drop mixture by small spoonfuls on top of cake. Spread evenly and carefully. Broil for 2 to 5 minutes, until topping is bubbling and lightly browned.