I was quite smitten with this cake when I saw it on Epicurious. The name alone made me want to make it. Chocolate Souffle Cake...
To Read More, Click On The Recipe Title.
I imagined a soft fluffy cake that would melt in your mouth, and it did! This cake came with an orange caramel sauce, but after reading the reviews and seeing that a lot of people had trouble with the sauce thickening I decided to take one persons advice and make a raspberry sauce for it. I just took frozen raspberries, added a little sugar to them, put them in the food processor and a raspberry sauce was born. I strained them to get the seeds out and fancied up the plate. I took pictures of the cake as it was being made, it wasn't hard at all. This is a flourless souffle cake..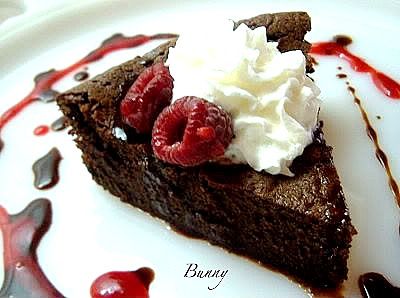 I started this recipe buttering a 10 spring form pan and putting parchment paper on the bottom and buttering that as well. I also melted the butter and chocolate together in a sauce pan till it was nice and smooth. Then it was time to beat the egg yolks, salt and sugar to a thick lemony color.
After that was done, it was time to beat the egg whites to a soft peak,add sugar and beat to just a stiff peak stage.
I added the melted chocolate and butter to the egg yolks, folding it in until it was blended.
After that was done I took a fourth of the egg whites and folded them into the chocolate mixture to make it light, then added all the egg whites into the bowl and folded gently till it was blended well.
After it was blended I poured the batter into the spring form pan.
This cake rises up in the oven and develops a nice little crust on top, but when taken out it deflates down. It's ok , it's suppose to do that.
You could do so many things with this cake, make a caramel sauce, put a nice scoop of your favorite ice cream along with it. Flavor the whipped cream with liquor Let your imagination run wild! How pretty would this be at a Christmas party!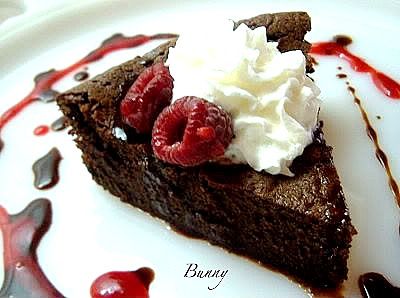 Chocolate Souffle Cake With Raspberry Sauce
Epicurious
2 sticks (1 cup) unsalted butter, cut into pieces
9 ounces fine-quality bittersweet chocolate (not unsweetened), chopped
6 large eggs, separated
2/3 cup plus 1/2 cup superfine granulated sugar
3 navel or Valencia oranges
Preparation
Make cake:
Put a small roasting pan filled halfway with hot water in bottom third of oven (to provide moisture during baking), then preheat oven to 325°F. Butter a 10-inch springform pan and line bottom with a round of parchment or wax paper. Butter paper.
Melt butter and chocolate together in a heavy saucepan over low heat, stirring, then remove from heat. Beat together yolks, 1/3 cup sugar, and 1/2 teaspoon salt in a large bowl with an electric mixer until thick and pale, and ribbons form when beater is lifted, about 6 minutes.
Beat whites at medium speed with cleaned beaters in another large bowl until they just hold soft peaks. Gradually add 1/3 cup sugar, beating until whites just hold stiff peaks. Stir warm chocolate mixture into yolk mixture until combined well. Stir one fourth of egg whites into chocolate mixture to lighten, then fold in remaining egg whites gently but thoroughly.
Pour batter into springform pan and bake in middle of oven (do not place springform pan in pan of hot water) until a tester inserted in center comes out with crumbs adhering, about 1 hour (a crust will form and crack on top of cake as it bakes). Transfer to a rack and cool 10 minutes (cake will "deflate" as it cools). Run a thin knife carefully around edge of cake, then remove side of pan. Cool cake on bottom of pan 30 minutes, then invert onto another rack or plate. Remove bottom of pan, then carefully peel off parchment. Invert cake onto a serving plate.
Make sauce while cake bakes:
Remove zest from 2 oranges and trim any white pith from zest. Cut zest into enough very thin strips to measure 1/4 cup. Squeeze juice from 3 oranges and strain through a fine sieve. Measure out 1 cup juice.
Cook remaining 1/2 cup sugar in a dry heavy saucepan over moderate heat, undisturbed, until it begins to melt. Continue to cook, stirring occasionally with a fork, until sugar is melted into a deep golden caramel. Add zest and cook, stirring, until fragrant, about 15 seconds. Tilt pan and carefully pour in juice (caramel will harden and steam vigorously). Cook over moderately low heat, stirring, until caramel is dissolved, then cool sauce.
Serve cake with orange sauce.