Apple Tarte Tatin, caramelized apples on a bed of puff pastry. Absolutely WONDERFUL!
To Read More, Click On The Recipe Title.
I was blown over with how good this was. Not only was it good...it was easy. Seriously, this took no real effort on my part except to peel, core and slice the apples. This Tarte Tatin will wow your guests for the holidays. Make it for breakfast, make it for dessert, make it and invite me over!! I took lots of pictures to show you just how easy this is.
This recipe starts with taking a sheet of puff pastry out of the freezer and letting it thaw. Roll it out to a 10 in square or big enough to fit a dinner plate over it, then cut out around the plate.
You have your base for the Tarte Tatin, put this on a cookie sheet and chill it in the fridge till you're ready for it.
Take a well seasoned cast iron pan and cover the inside with 1/4 cup of softened butter.
Put a 1/2 cup of sugar on the bottom of the pan.
Peel, core and slice 7 to 9 TART APPLES. I didn't have 7 apples so my Tarte Tatin wasn't as thick as it should have been, ( only had 6), next time I'll make sure I have enough. Arrange them as nicely as you can on top of the sugar in the cast iron pan. Before I did this I added a teaspoon of lemon juice just because I think it adds a lot to the taste of the apples. It gives they're flavor a nice boost.
Turn you stove to a moderate high heat and let them cook for about 20 minutes, don't touch them, don't stir them just let them cook until you see the bubbling liquid turn brown
After it's done cooking on top of the stove, take a sheet of foil and lay it on your oven shelf ( just in case you have a bubble over) and put your cast iron pan on the foil and bake for 20 minutes. REMEMBER your cast iron pan handle is HOT so be careful!
After the 20 minutes are up , take the pan out of the oven and place the chilled puff pastry circle on top of the apples and put the pan back into the oven for another 20 minutes or until it's brown.
Let this sit on a cooling rack for 10 minutes. Take a plate with a ridge on it, put it against the cast iron pan and flip it over so the tarte tatin comes out. Some apples may stick, just put them back where they belong. Some of the apples may be dark, it's ok , they don't effect the taste. Take any caramel left in the pan and brush on top of the apples. Next time I won't slice the apples as thin as I did, yes there will be a next time....many many next times.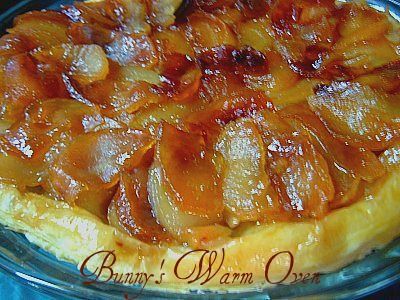 The end result is wonderful caramelized apples sitting atop a golden brown puff pastry crust **sigh**.
Tarte Tatin
Epicurious
frozen puff pastry sheet (from a 17 1/4-ounce package)
1/2 stick (1/4 cup) unsalted butter, softened
1/2 cup sugar
7 to 9 Gala apples (3 to 4 pounds), peeled, quartered lengthwise, and cored
Special equipment: a well-seasoned 10-inch cast-iron skillet
Preparation
Preheat oven to 425°F.
Roll pastry sheet into a 101/2-inch square on a floured work surface with a floured rolling pin. Brush off excess flour and cut out a 10-inch round with a sharp knife, using a plate as a guide. Transfer round to a baking sheet and chill.
Spread butter thickly on bottom and side of skillet and pour sugar evenly over bottom. Arrange as many apples as will fit vertically on sugar, packing them tightly in concentric circles. Apples will stick up above rim of skillet.
Cook apples over moderately high heat, undisturbed, until juices are deep golden and bubbling, 18 to 25 minutes. (Don't worry if juices color unevenly.)
Put skillet in middle of oven over a piece of foil to catch any drips. Bake 20 minutes (apples will settle slightly), then remove from oven and lay pastry round over apples.
Bake tart until pastry is browned, 20 to 25 minutes. Transfer skillet to a rack and cool at least 10 minutes.
Just before serving, invert a platter with lip over skillet and, using potholders to hold skillet and plate tightly together, invert tart onto platter. Replace any apples that stick to skillet. (Don't worry if there are black spots; they won't affect the flavor of the tart.) Brush any excess caramel from skillet over apples. Serve immediately.
Cooks' note: ·Tart can cool in skillet up to 30 minutes. It can also stand, uncovered, up to 5 hours, then be heated over moderately low heat 1 to 2 minutes to loosen caramel. Shake skillet gently to loosen tart before inverting