Lemon Ricotta Pound Cake with Blueberry Sauce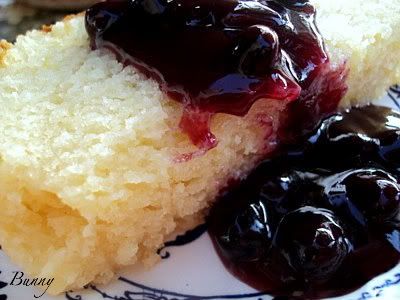 I'm in love with baking with ricotta cheese. It does amazing things to cake.
To Read More, Click On The Recipe Title.
This pound cake recipe was originally orange, but I made it lemon. I then went hunting for a blueberry sauce to slather on top of it.
Oh my this was fantastic...the cake is soooooo moist! The blueberry topping is excellent and also a multi-purpose recipe-it would be great over pancakes and waffles and would also make a wonderful cheesecake topping.
I baked this for an hour in my oven, as most of the reviews on the recipe said the 45 minutes wasn't long enough. It was perfect at an hour. Just make sure to test the cake for doneness.
Wanna print just the recipe,
click here!
Lemon Ricotta Pound Cake with Blueberry Sauce
Food Network
Giada De Laurentis
Ingredients
* 1 1/2 cups cake flour
* 3 tsps baking powder
* 1 teaspoon salt
* 3/4 cup (1 1/2 sticks) butter, room temperature, plus more to grease the baking pan
* 1 1/2 cups whole milk ricotta cheese
( I used a 15 ounce carton)
* 1 1/2 cups sugar, plus 1 tablespoon
* 3 large eggs
* 1 teaspoon lemon extract
* 1 lemon, zested
* 2 tbls lemon juice
*
Directions
Preheat the oven to 350 degrees F. Grease a 9 by 5 by 3-inch loaf pan with butter. In a medium bowl combine the flour, baking powder, and salt. Stir to combine.
Using an electric mixer, cream together the butter, ricotta, and sugar until light and fluffy, about 3 minutes. With the machine running, add the eggs 1 at a time. Add the vanilla, orange zest, and Amaretto until combined. Add the dry ingredients, a small amount at a time, until just incorporated. Pour the mixture into the prepared pan and bake until a toothpick comes out clean and the cake is beginning to pull away from the sides of the pan, about 45 to 50 minutes. Let the cake cool in the pan for 10 minutes, then transfer to a wire rack and cool completely.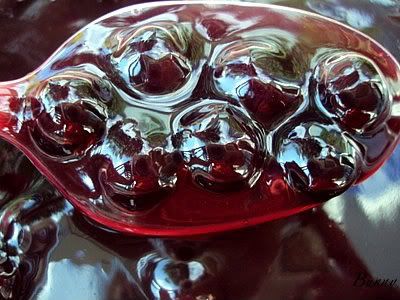 Blueberry Sauce
All Recipes
Ingredients
* 2 cups fresh or frozen blueberries
* 1/4 cup water
* 1 cup orange juice
* 3/4 cup white sugar
* 1/4 cup cold water
* 3 tablespoons cornstarch
* 1/2 teaspoon almond extract
* 1/8 teaspoon ground cinnamon
Directions
1. In a saucepan over medium heat, combine the blueberries, 1/4 cup of water, orange juice, and sugar. Stir gently, and bring to a boil.
2. In a cup or small bowl, mix together the cornstarch and 1/4 cup cold water. Gently stir the cornstarch mixture into the blueberries so as not to mash the berries. Simmer gently until thick enough to coat the back of a metal spoon, 3 to 4 minutes. Remove from heat and stir in the almond extract and cinnamon. Thin sauce with water if it is too thick for your liking.