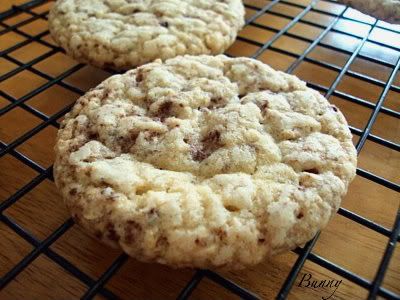 This is NOT your average oatmeal cookie! This is the most light, buttery oatmeal cookie I've ever made.
To Read More, Click On The Recipe Title.
Somewhere between a shortbread and a sandie cookie. The first thing you feel when you bite into this cookie is how light and airy it is, it has this slight crisp, and then the lightness hits your mouth, along with the orange and chocolate flavor, absolutely amazing! I made it for our family dinner tonight, my sister in law Mary Beth picked one up and took a bite, she turned and looked at me with her eyes wide and said....What are these, they're delicious! I did change the recipe a bit, the original recipe called for pecans, my mouth was craving orange and chocolate. I switched out the two tsps of vanilla extract for 2 tsps of orange extract, I switched out the pecans for 4 ounces grated semi sweet chocolate. I wanted to use mini chocolate chips but didn't have any....grated chocolate worked just fine. I also put the one cup of regular oatmeal that used into the food processor and pulsed till it was flour like. I used my one tablespoon measuring spoon to measure the cookie dough out.
These baked for 20 minutes in my oven, then they went straight on to the cooling rack.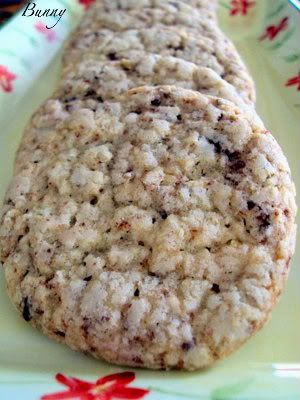 The orange aroma coming from the oven was heavenly! I don't even wanna know how many I ate before my family came for dinner.....
Wanna print just the recipe,
click here!
Danish Oatmeal Cookies
All Recipes
Ingredients
* 1 cup all-purpose flour
* 1/2 teaspoon baking soda
* 1/4 teaspoon salt
* 1 cup butter, softened
* 1 cup confectioners' sugar
* 2 teaspoons vanilla extract ( I used 2 tsps orange extract)
* 1 cup oatmeal ( I ground the oatmeal into a flour)
* 1 cup chopped pecans ( I used 4 oz grated semi sweet chocolate)
* 1 tablespoon confectioners' sugar, or as needed
Directions
1. Preheat an oven to 325 degrees F (165 degrees C). Line a baking sheet with parchment paper.
2. In a bowl, mix the flour, baking soda, and salt. In a separate large bowl, mix the butter, 1 cup confectioners' sugar, and vanilla until the mixture is smooth and creamy. Stir in the flour mixture; gently stir in the oatmeal and pecans and lightly mix until combined.
3. With a spoon, drop about 1 scant tablespoon of dough per cookie onto the prepared baking sheet. Bake in the preheated oven until lightly browned, about 20 minutes. Let cool completely before sprinkling cookies with confectioners' sugar.
Cook's Notes
*
These cookies freeze well so I often make a double batch. The trick is getting some into the freezer before they're all gone!
*
You can use walnuts instead of pecans and regular oats for quick-cooking oats.