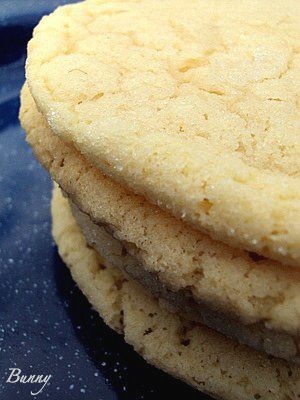 I love living in Kentucky. The people here are amazing.
To Read More, Click On The Recipe Title.
When I first got here, whenever my husband and I would get in the truck to run errands I noticed that every car that passed us would wave to us. I commented to Paul that he must know everybody around here. He said , why do you think that? I said, cause every car that passes us waves at you. He said, they'll wave at you whether they know you or not, it's just what they do here. I was amazed, totally amazed. Every person , man or woman young or old that I was introduced to shook my hand and asked me how I liked living here. It honestly made me feel right at home. I made these cookies to give to our neighbor Randy who brought his tiller down here to help us start our first garden. I hope he gets these soon cause if they stay in this house any longer I'll have to make another batch ! OH my these are good! I absolutely love slightly crispy chewy cookies, I've never been nor ever will be a cakey cookie girl. I saw these on Heather's blog,
Southern Pink Lemonade
.and decided they needed to be made. I followed the recipe exactly. The recipe is suppose to make 24 cookies , mine only yielded about 20. But I'm pretty sure that my 2 tablespoons of cookie dough kinda grew as I went alone....opps! This recipe gave me BIG round thin soft and chewy sugar cookies, like bakery size cookies. The cookies spread quite a bit. But see I wouldn't change that cause I loved it. You might want to go down to 1 tablespoon of cookie dough with less baking time, or refrigerate your dough so they don't spread as much. I adore them just the way they are. I was thinking how great these would be to make ice cream sandwiches with! I'm already thinking of ways to cool off in the summer! Enjoy!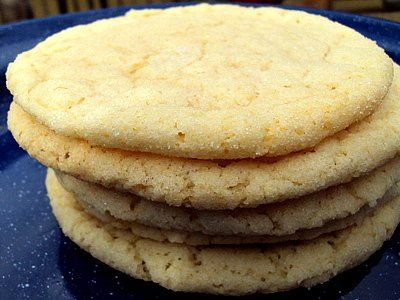 Click
here
to print recipe
Sugar Cookies
Southern Pink Lemonade
2 1/4 cups flour
1 teaspoon baking powder
1/2 teaspoon baking soda
1/2 teaspoon salt
1 1/2 cups sugar (plus about 1/3 cup for rolling the dough in)
2 ounces cream cheese, cubed
6 Tablespoons butter, melted and warm
1/3 cup vegetable or canola oil
1 egg
2 teaspoons vanilla
1 Tablespoon whole milk
Preheat oven to 350 degrees F. Line a cookie sheet with parchment paper or a silicon baking mat.
In a small bowl, sift together flour, baking powder, baking soda, and salt. Set aside.
In a medium bowl, measure out the sugar. Place the cream cheese on top and pour the melted, warm butter over the top. Whisk to combine. There will be a few lumps of cream cheese remaining but they will mix in completely in a few steps.
Whisk in the oil until fully combined. Stir in the egg, vanilla, and milk.
Add the flour mixture and fold in with a spatula until a smooth dough forms. Roll 2 tablespoons of dough into 24 balls. Roll each ball into the extra sugar. Place the cookies on the prepared baking sheet (I could only fit 9 at a time). Using the bottom of a flat drinking glass, slightly flatten each cookie until they are 2 inches in diameter

.
Bake for 11-13 minutes, turning the pan halfway through baking. Let them cool on the baking sheet for 2-3 minutes before removing to a wire rack to finish cooling.