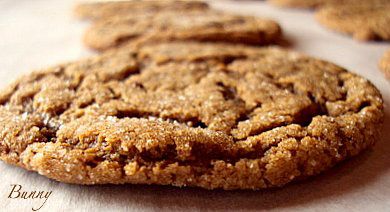 Your gonna love this moist, soft, chewy molasses cookie!
To Read More, Click On The Recipe Title.
But before we talk about this divine little morsel , I wanted to introduce you to some of our canine characters on Gilbert's Creek.
When you come off the highway onto Gilbert's Creek you start to descend. And you keep descending about 6 miles. The road gets smaller...like if a car is coming , one of you have to go onto the side of the road so the other one can pass...yeah that small. The trees extend over the road on both sides to form a literal tunnel of green.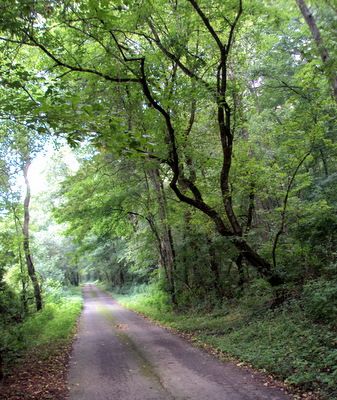 We don't get a lot of traffic down here, the only people that travel this road are the people who live here. And occasional sightseers Everyone here owns dogs, dogs that ( even though there are no leash laws down here) stay on there own land. None of our pets are caged or tied up. We all know that traveling on Gilbert's Creek is a slow ride. Slow because.....you never know what to expect. For example.
The first house you come to belongs to Rat and Crazy Bob's owners.
Rat is 15 years old and on occasion has been know to lay down and take a nap in the middle of the road.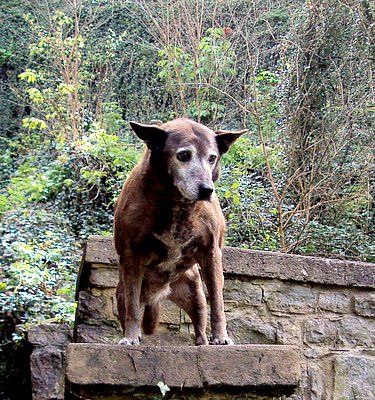 I guess Rat feels like at her age , she's earned the right to nap where ever she wants to, and we agree. If she's asleep, blowing the horn to move her doesn't work , she's deaf . You have to get out of the car and wake her. Rats brother Crazy Bob...
Is a sweet dog, unless your riding a bike or in a car passing his house. For some reason, he doesn't like wheels. Look at those eyes, I think that's where the crazy part of his name comes in. Moving along down the road you'll come across Jade.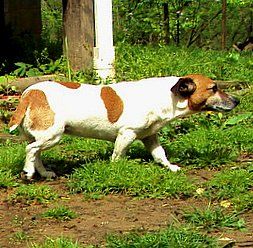 Jade is very low to the ground , but don't let her smallness fool you. If Jade doesn't scare you off her land, her posse will....they've got her back.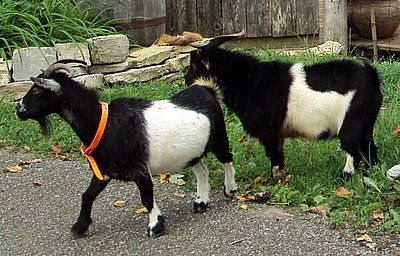 When Jade barks the goats come running! They make quite a team. Guard Goats, yep only on Gilbert's Creek.
Still farther down on the creek and closer to our house, you have Buddy...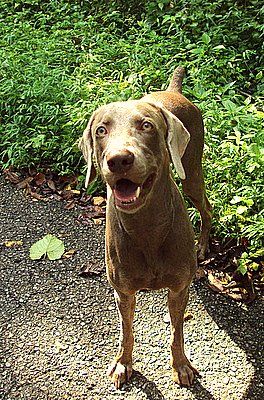 Buddy is a regular visitor to our house, he loves my Derby, and wants to marry her.
Our Derby isn't interested though, she's a daddy's girl. We adopted Derby when she was 2 1/2 years old. Before that she was owned by a breeder and kept in a cage her entire life. Now, she goes where ever her little heart pleases. She goes to the river to swim.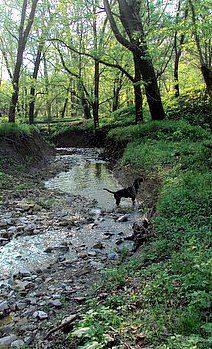 And to the creek to explore. And everyday we take a walk so she can visit her friends. Life is good on Gilbert's Creek.
Now about those cookies.....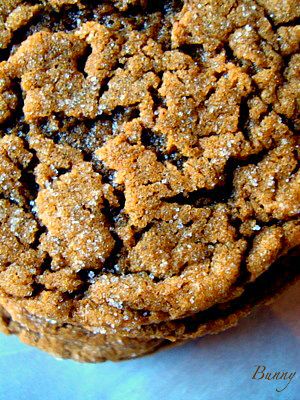 The molasses cookies are every bit as good as the Sugar Cookies in my last post. EVERY BIT!! These cookies have a perfect blend of rich spicy flavor, almost aromatic. The cookie is soft and chewy and stays that way. My neighbor who is seventy plus years young told me ...I haven't had a molasses cookie this good since I left home. I followed the recipe exactly. Be careful to not over bake these cookies or they will get hard, just follow the baking time and remove them from the oven when they are set and puffed up and you will have the best molasses cookie you ever bit into! Don't wait till the holidays to make molasses cookies, make them now! Just imagine what this cookie would taste like with vanilla ice cream sandwiched in between them....I'm getting weak in the knees just thinking about it.
Click here to print the recipe
.
Molasses Cookies
Simply Recipes
From Cook's Illustrated's
The Best Recipes Cookbook
Ingredients
2 1/4 cups all-purpose flour
2 teaspoons of baking soda
1/2 teaspoon of salt
1 teaspoon ground ginger
1 1/2 teaspoons ground cinnamon
1/4 teaspoon ground allspice
3/4 teaspoon ground cloves
3/4 cup (1 1/2 sticks) unsalted butter, softened
1/2 cup dark brown sugar, packed
1/2 cup granulated sugar, plus 1/3 cup for rolling cookies
1 large egg
1 teaspoon vanilla extract
1/3 cup unsulphered molasses
Method
1
Preheat oven to 375°F. Mix together flour, baking soda, salt, cinnamon, ginger, cloves, allspice together in a bowl and set aside.
2
Use an electric mixer and beat the butter for 2 minutes. Add the brown sugar, and 1/2 cup granulated sugar and beat until light and fluffy, about 3 minutes with mixer set at medium speed. Add egg, vanilla extract, and molasses. Beat until combined, about 30 seconds. Scrape down sides of bowl with a rubber spatula.
3
Add dry ingredients and beat at low speed until just combined, about 30 seconds.
4
Place remaining 1/3 cup of granulated sugar in a shallow bowl. Working with 2 Tbsp of dough each time, roll dough into 1 3/4 inch balls. Roll balls in sugar and place on ungreased cookie sheets, spacing them 1 1/2 to 2 inches apart.
5
Bake until the outer edges of the cookies begin to set and centers are soft and puffy, about 11 to 13 minutes. Cool cookies on sheets for 2 to 3 minutes before transferring them to cooling racks .
Note: do not overcook. The centers of the cookies should be somewhat soft and spongy when you take them out of the oven, otherwise they will end up hard and dry.
Optional Glaze
When cookies have cooled, lay out over a sheet of wax paper. Sift 1 1/4 cups of confectioner's sugar (powdered sugar) and then whisk with 2 Tbsp of milk until smooth. Dip spoon into glaze and dribble over cookies.
Yield:
Makes 18 large cookies