Chicken Sausage and Pepper Rice
I don't normally do blog posts about dinners. For some reason I have a hard time taking pictures of cooked food. It's so much easier taking pictures of baked goods as opposed to trying to make a dinner dish look fresh and appealing and still keep it hot so you can eat it. I made the effort for this recipe because it was outstanding.
To Read More, Click On The recipe Title
.
This is a one dish meal that's easy to prepare and is done in 25 minutes. You could chop the vegetables ahead of time and refrigerate them until you're ready to start the dish. The recipe called for frozen chicken tenders, I used a boneless chicken breast and cut it into strips myself. I didn't have any red peppers so I just used all green peppers. All the ingredients in this recipe come together beautifully to make a spicy delicious dinner. I don't like hot sauce so I served it on the side for Paul. My husband had two helpings of this, it was delicious!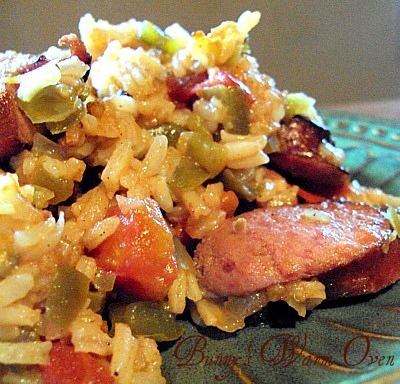 Click here to print recipe
Chicken Sausage and Pepper Rice
American Profile
Ingredients:
1

tablespoon olive oil

12

ounces kielbasa smoked sausage, cut into 1-inch slices( brown kielbasa in the oil first, then add the other ingredients)

8

frozen chicken tenders, about 1 pound total ( I used boneless chicken breast cut into strips)

12

ounces frozen pepper stir-fry or 2 1/2 cups chopped red and green pepper and 1 cup slivered onion

1

(14 1/2-ounce) can diced tomatoes

1

cup water

1

cup uncooked long-grain white rice (not instant)

1

teaspoon dried thyme leaves

1

teaspoon Worcestershire sauce

1

teaspoon salt

1/4

cup chopped parsley, optional

1

teaspoon Hot pepper sauce, optional
Instructions
Place a Dutch oven over medium high heat until hot. Add oil and tilt pot to coat bottom. Add sausage and cook 5 minutes or until beginning to brown on edges, stirring frequently. Add chicken, pepper stir-fry, tomatoes, water, rice, Worcestershire and thyme. Increase heat to high, bring to a boil. Reduce heat, cover tightly and simmer 25 minutes or until vegetables are tender and mixture has thickened, stirring midway.
Remove from heat and add salt and parsley, if desired. Cover tightly and let stand 15 minutes to absorb flavors. Serve with hot pepper sauce.