The amount of recipes that come into my in box is ridiculous. I subscribe to just about any food site you can think of.
To Read More, Click On The Recipe Title.
Once in a while I'll get a clean fit going on with the computer and just start deleting things I haven't used or will probably never use. But I just can't seem to unsubscribe to any of the food sites. What if I miss that one fantastic recipe, whatever it may be. How could I live with that? I'm not taking that chance, the recipe sites stay. How to have firmer thighs in ten days, your gone. One of the recipe sites I subscribe to is Kraft Recipes, where I saw this soup. My husband , being the tall dark handsome Texan that he is loves Mexican everything. The recipe is a good basic soup recipe that you can add or subtract from and make totally your own. But the one thing you want to definitely keep in the recipe is that first ingredient...Italian dressing! I know what your thinking...Italian dressing in a Mexican soup? I'm here to tell you it totally works! It adds lots of flavor. There were some things I adapted in the recipe. I added black beans, corn and green peppers. I didn't measure out these ingredients, I just eye balled them. I sauteed the onion and green pepper together and added it to the soup. And with any soup recipe I make I always tweak the broth by adding a little chicken base. You can , but don't have to broil the cheese on top of the soup, it just melts fine all by it's self! You have to put the cheese on top! It's soooooo good in the soup! My husband likes a little dollop of sour cream too. If you are a busy mom, you can have this on the table in no time flat! My adaptions to the original recipe are printed in red. Enjoy!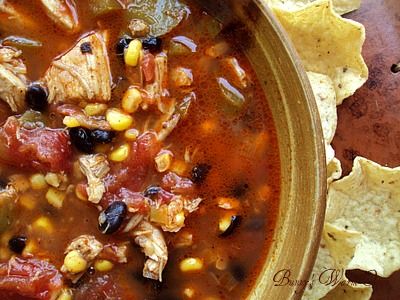 To print the recipe,
click here.
Fiesta Chicken Soup
Kraft Recipes
Ingredients
1/4 cup

KRAFT Zesty Italian Dressing
3/4 lb. boneless skinless chicken breasts, cut into bite-size pieces
1

onion

, chopped

( I sauteed onion and green pepper together )
1cup (1/2 of 14-1/2-oz. can) stewed tomatoes, undrained
1can (14-1/2 oz.)

fat-free reduced-sodium chicken broth
1can (8-1/2 oz.)

peas and diced carrots

, drained

( I used corn, green peppers and black beans)
1/2cup KRAFT Mexican Style Finely Shredded Four Cheese

( I used Cheddar Cheese)
HEAT dressing in large saucepan on medium-high heat. Add chicken and onions; cook 5 min., stirring occasionally.
ADD tomatoes, broth, water, peas and carrots and chili powder; stir. Bring to boil. Reduce heat to medium; simmer 8 min. or until chicken is cooked through and onions are tender. Meanwhile, preheat broiler.
LADLE soup into four ovenproof serving bowls; top with cheese. Broil, 6 inches from heat source, 2 to 3 min. or until cheese is melted.


Check out this
fantastic Chicken Noodle Soup
!