I get so excited when I find a good recipe that I want to share ....people must think I'm a baking nerd.
To
Read More, Click On The Recipe Title.
There she is with her miniature rubber spatula and whisk in her apron pocket protector. LOL!! It's ok, it's what I've done for 30 years and when you like doing something that much it's a pleasure. I made a blueberry pie that is a little different and absolutely delicious. Great summer pie! It's creamy because it has sour cream in the custard portion of the pie. Yes ,sour cream not milk. You don't taste the sour cream, which allows the blueberries to come shining through! The sour cream just makes it creamy. Let's get baking, we're gonna make a Creamy Blueberry Pie!
First we need a 9 inch pie crust, the recipe said to use a deep dish pie crust, I used a regular 9 inch pie pan and put a baking sheet under it and it worked just fine. Make a homemade pie crust or buy a premade pie crust. Some people used a graham cracker crust and that did well for them but I personally think that would have made this too sweet. It was good with a regular pie crust. I also used frozen blueberries thawed under warm water and drained well. Get your pie crust ready and place 3 cups blueberries in the bottom of it.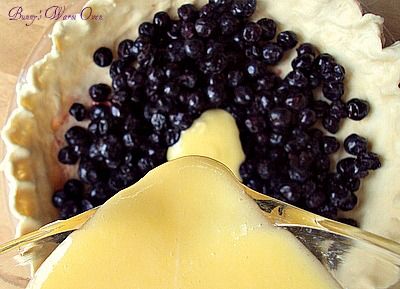 Next we're gonna make the custard to go over top of the berries. Combine your sugar, flour, salt, 2 beaten eggs and the sour cream. Whisk them together and pour over the berries. Next time I make this I think I'm gonna add a little lemon juice to the mix, maybe a teaspoon. Lemon and blueberry go so well together and it always brighten up the taste of blueberries.
It's got gorgeous color already doesn't it?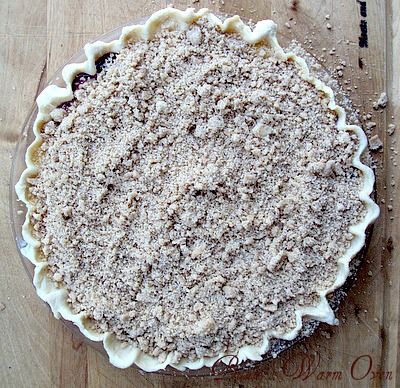 Our final step is to make the streusel topping. You may want to just half the topping recipe, it really doesn't need alot. It adds a crunch to the pie, put doesn't need to be smothered in it, ( we want to taste blueberries not streusel) a nice layer just to cover the top is sufficient. I didn't use all the topping I made on the pie. Set your oven at 350 degrees and bake 50 minutes. I put foil over the top of the pie for the first 20 minutes of baking to keep the crust from getting to brown. Cool completely on a wire rack. After mine was cooled I refrigerated it, it's so good cold!! This was so easy to make and so very GOOD!!! Switch out the berries to suit what you have. You can't go wrong with this pie! Enjoy!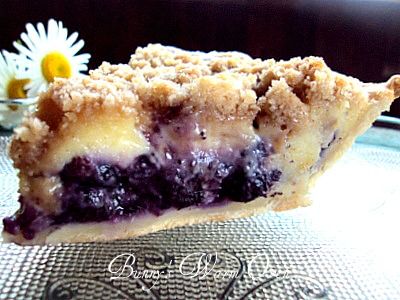 To print the recipe
,

click here.
Creamy Blueberry Pie
Allrecipes
My adaptions to the original recipe are in
red
.
Ingredients
3 cups blueberries, fresh or frozen ( if frozen thaw and drain well)
1( 9) inch deep dish pie crust
( I use a regular 9 inch crust with a baking sheet underneath it)
For Custard.
1 cup white sugar
1/3 cup all purpose flour
1/8 tsp salt
2 eggs, beaten
1/2 cup sour cream
( I used 2/3 cups sour cream)
For Streusel topping
1/2 cup white sugar
( I used 1/4 cup white sugar and 1/4 cup brown sugar)
1/2 cup all purpose flour
1/4 cup butter
Preheat oven to 350 degrees F (175 degrees C). Place the blueberries in the pastry shell and set aside.

Combine 1 cup sugar, 1/3 cup flour, and salt. Add eggs and sour cream, stirring until blended. Pour the sour cream custard over the blueberries.

In another bowl, combine 1/2 cup sugar and 1/2 cup flour. Cut in the butter with pastry blender until the mixture resembles coarse meal. Sprinkle the topping over the sour cream mixture and berries in the pie shell.

Bake in the preheated oven for 50 to 55 minutes, or until lightly browned. Cool on wire rack.
I covered the pie with foil for the first 20 minutes of baking to keep the crust from browning to much.