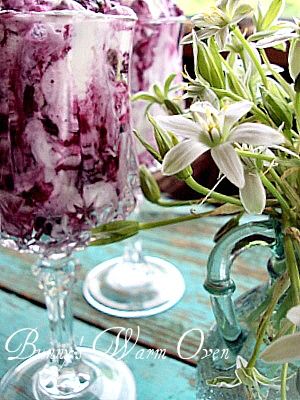 According to
Wikipedia
the earliest recipe for fruit fool dates bake to the mid 17th century. Originally the most common fruit ingredient in fools was gooseberries. Thankfully modern recipes include any seasonable fruit readily available. The origin of the name fool isn't clear but some authors believe it's derived from the french word fouler, which means to crush or press.
To Read More, Click On The Recipe Title.
This is an elegant dessert. Elegant doesn't have to be complicated. I made a blueberry sauce that took a whole ten minutes to make. The blueberries cool in the refrigerator for an hour. Just before serving , I made the whipped cream mixture. Whipped cream combined with greek yogurt , powdered sugar and vanilla. . This dessert is absolutely delightful. The flavors blend together so very well. You could layer this as a parfait with shortbread cookies crumbled or serve shortbread cookies on the side . So simple, so elegant ....so very very good.

To print the recipe ,
click here.
Blueberry Fool
Mel's Kitchen Cafe
Ingredients
3 cups fresh blueberries
1/3 cup granulated sugar
1 teaspoon cornstarch
Pinch of salt
2 teaspoons lemon juice
1 1/4 cups heavy cream
2 tablespoons powdered sugar
1 small carton (about 5-6 ounces) plain Greek yogurt, regular or nonfat
1 teaspoon vanilla extract
Additional blueberries, optional
Directions
In a saucepan, combine berries, granulated sugar, cornstarch, salt and lemon juice. Cook over medium-low heat, stirring often, until sugar dissolves, berries have softened and juices have thickened slightly, about 10 minutes. Remove from heat, transfer to a bowl and let cool to room temperature, stirring occasionally. Cover and refrigerate until cold, about 1 hour. This step can be prepared up to a day in advance.
Just before serving, in a large bowl, using an electric mixer (handheld or stand mixer), beat the cream and powdered sugar until soft peaks form. Add yogurt and vanilla and beat until medium peaks form and the mixture is creamy and very thick. If you have trouble getting the cream to whip up, try chilling your bowl and beaters before whipping the cream.
Using a large spatula, gently fold blueberry mixture into cream mixture until just barely combined, with streaks remaining. Divide mixture among 6 bowls, top with additional blueberries, if desired, and serve.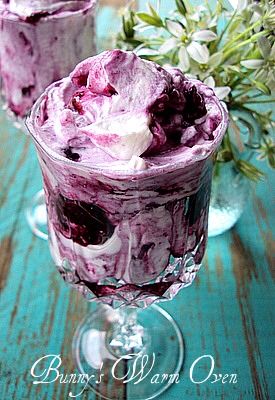 Here's another
delicious blueberry dessert
to cool you off in the summer heat.