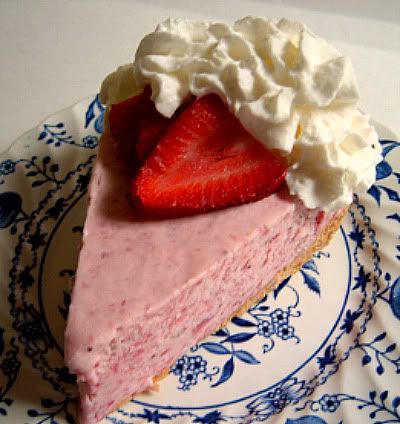 Have you seen the strawberries in the store?? They actually don't look to bad for this time of year! I couldn't resist them so I bought them and decided to make this pie.
To Read More, Click On The Recipe Title.
This recipe came from The Prepared Pantry, I wanted to make it last year but never got around to it so it was the first thing I thought of for the strawberries. Why this recipe? The cream and cream cheese! Plus it's a snap to but together. Another plus is it's a freezer pie, you can make it, throw it into the freeze a couple days before you need it and pull it out. The recipe called for frozen sweetened strawberries, I used 1 1/2 cups of fresh pureed with a 1/4 of sugar mixed in to sweeten them. Since they aren't in season yet I added 1 tsp of strawberry extract to boost the strawberry flavor. I used a graham cracker crust, perfect for the pie! The key to this recipe is keeping the ingredients cold, puree the strawberries and put them into the fridge, whip the cream and put it into the fridge, take the can of sweetened condensed milk and put it in the fridge. Take the cream cheese straight from the fridge before you beat it, it doesn't have to be room temp. After you make the graham cracker crust it goes....yeah in the fridge!! LOL!! There aren't a lot of ingredients you just have to get yourself prepared before you put it together, really it's easy!! I filled the pie crust to the tippy top and still had some left over, no problem just freeze in individual cups!
How good would this be on a hot summer day!!
Wanna print just the recipe,
click here
!
Strawberry Cream Pie
The Prepared Pantry
Ingredients:
1 nine-inch deep dish pie shell, well-chilled
1 cup whipping cream
4 ounces cream cheese
1 14-ounce can of sweetened condensed milk, well-chilled
1 1/2 cups pureed, sweetened strawberries (strawberries in syrup or strawberries with sugar added
Directions:
Make sure the ingredients and the pie shell are well-chilled.
1. Whip the cream until stiff peaks form. Set in the refrigerator to keep cold. 2. Whip the cream cheese. Beat in the condensed milk and strawberries. 3. Gently fold in the whipped cream. Pour the filling into the pie shell. If the filling ingredients have been kept cold and you work quickly, the shell should overfill to a slight mound. Immediately stick the pie in the freezer to set. Freeze for four hours or more. Serve frozen