I've baked three times this week. But they were goodies that I had already blogged about.
To Read More, Click On The Recipe Title.
We all have those recipes that have to be made for the holidays, those tried and true goodies that our families ask for. Now it's time to make something I want! I found this recipe on the
Eagle Brand Sweetened Condensed Milk site
. They kinda reminded me of Pecan Tassies, and don't we all just love those! The recipe called for ingredients that I already had so it was going to be made. It really didn't take any time at all to make the dough, just minutes really, then it chilled in the fridge for an hour. The filling was very simple, just what I needed today something easy and not time consuming. I did make a change though...out of necessity. I didn't have almond extract, but I did have almonds so I crushed 1/3 cup of almonds into the batter. These are so good...really good. Next time I make them I was thinking about adding some lemon or lime zest to the batter just to mix it up a bit. Maybe some pineapple, that sounds good with coconut and almonds! Take it and make it yours, enjoy!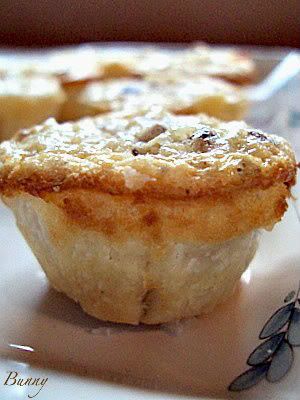 Click here to print recipe.
Petite Macaroon Cups with Almonds
Eagle Brand Condensed Milk Recipe Site
Ingredients:
1 cup butter, softened
2 (3 oz.) packages cream cheese, softened
2 cups Pillsbury BEST® All Purpose Flour
1 (14 oz.) can Eagle Brand® Sweetened Condensed Milk
2 large eggs, beaten
1 1/2 teaspoons vanilla extract
1/2 teaspoon almond extract
1 1/3 cups flaked coconut
BEAT butter and cream cheese in large bowl until fluffy; stir in flour. Cover; chill 1 hour.
HEAT oven to 375°F. Divide dough into quarters. On floured surface, shape 1 quarter into a smooth ball. Divide into 12 balls. Place each ball in a 1 3/4-inch muffin cup; press evenly on bottom and up side of each cup. Repeat with remaining dough.
COMBINE sweetened condensed milk, eggs and vanilla and almond extracts in medium bowl; mix well. Stir in coconut. Fill muffin cups 3/4 full. Bake 16 to 18 minutes or until slightly browned. Cool in pans; remove.
VARIATION
CHOCOLATE MACAROON CUPS: BEAT 1/4 cup unsweetened cocoa into egg mixture; proceed as above.